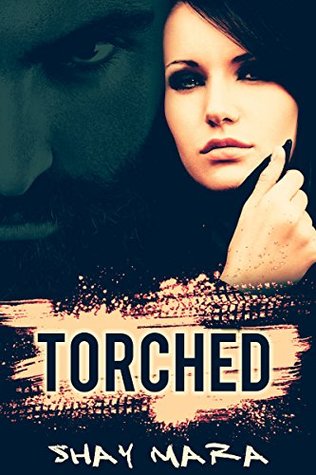 Torched by Shay Mara
Pages:  324
Format: eBook
My Rating: 5/5
Synopsis:
Warning: This story contains contains explicit language, sex, and violence.
~~~~~~~~~~~~~~~~~~~~~~~~~~~~~~~~~~~
My name is Livia Ash. It's an alias. The secrets and lies don't end there.
As a teenager, I was forced into a dark life, my freedom and innocence ripped out from under me. To get out, I had to become like the very people I hated, people who had no problem spilling blood just to make a point. 
It almost cost me my own life, but I did it. Battered and broken, but determined to start over, I ran. Right into the path of Cameron "Torch" Larter, nomad member of the Iron Serpents Motorcycle club. Overbearing, rude, and intimidating, he was everything I didn't want to deal with. But this rugged biker Adonis — with his piercing eyes and sharp tongue — also got under my skin.
Forgetting him proved to be just as hard as breaking free from a life of crime. Neither happened. And by the time our worlds collided a second time, old enemies and new threats meant that I couldn't act on my desires. But Torch wasn't a man who took no for an answer.
Could two very different breeds of outlaws on a warpath ever unite without ending up on a cold slab or prison cot?
This is our story.
GoodReads | Amazon | Barnes & Noble
---
Review:
The first thing you should know about me is that I absolutely love biker romance and anything MC related and I do enjoy erotica. I also have a deep love for badass women. This book had all of that!
This story starts off in the past and works it way into the present. Shay Mara transitioned it so well and she did it in a way were I wasn't confused. The main character Livia Ash has been knocked down but she overcomes it and she also never feels sorry for herself even when her life was seriously fucked up. The first time Livia meets Torch is when she is in a bad place but that doesn't stop him from going after her. They have a brief night together before he leaves. Livia and Torch do not meet again until a couple years later and thats when they really start to connect.
I LOVE Liv, she's a bad bitch! I admire how she takes hold of her life and doesn't apologize for who she is. The way she handles everything is amazing and she is so strong. I also really enjoyed Torch because he's the perfect alpha, he knew when to take control and when to be sweet. All the supporting characters are awesome and they have such an amazing family connection. They really show that you don't have to be blood related in order to be a family. Besides the characters being amazing, it was a great story and I really enjoyed it!
---
If you read this let me know your thoughts! If you enjoy MC Romance or Erotica, what are your favorites? Im always looking for new stories to read!