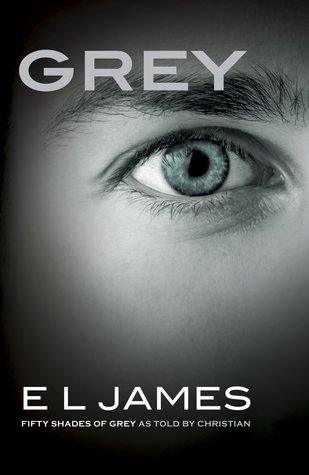 Grey by E.L. James
Pages:  576
Format: Paperback
My Rating: 4/5
Publisher: Vintage
Synopsis:
See the world of Fifty Shades of Grey anew through the eyes of Christian Grey.

In Christian's own words, and through his thoughts, reflections, and dreams, E L James offers a fresh perspective on the love story that has enthralled millions of readers around the world.
Christian Grey exercises control in all things; his world is neat, disciplined, and utterly empty—until the day that Anastasia Steele falls into his office, in a tangle of shapely limbs and tumbling brown hair. He tries to forget her, but instead is swept up in a storm of emotion he cannot comprehend and cannot resist. Unlike any woman he has known before, shy, unworldly Ana seems to see right through him—past the business prodigy and the penthouse lifestyle to Christian's cold, wounded heart.
Will being with Ana dispel the horrors of his childhood that haunt Christian every night? Or will his dark sexual desires, his compulsion to control, and the self-loathing that fills his soul drive this girl away and destroy the fragile hope she offers him?
This book is intended for mature audiences.
GoodReads | Amazon | Barnes & Noble
---
Review:
If you are reading this review I am assuming you read the trilogy first hand so I may drop some spoilers. The Fifty Shades series is one of my favorite series; I absolutely loved it so much. What I mean by 'loved it so much' is that I've read it a zillion times. You either hate this series more than the fiery pits of hell or really love it and want to get spanked in your naughty bits with a leather plaited riding crop. I would take the latter as long as Mr. Grey is in charge.
This book is basically exactly what happens in Fifty Shades of Grey but it is told in the perspective of Christian Grey. In the first book you don't know what Christian is thinking at all and only get tidbits because of his gestures. In this novel we get all his thoughts and how he truly feels about himself and Anastasia, which is refreshing. He loved her since the beginning and its surreal how much he needed her to be happy. Christian is very cynical and we get to see how deep it runs. We also get flashbacks that involve that bitch Elena that show us how it was for him to be a submissive. Flashbacks of Leila also come up and it really showed me the difference between his relationship with Anastasia and the one he had with Leila. The two relationships are drastically different with Leila saying things like "Sir, this submissive respectfully requests Master's iPod." and Ana would just be like "Can I see your iPod?" (this one is not an exact quote). Ana is not anything Christian is used too and she makes him a better person.
I thoroughly enjoyed seeing things from Christians perspective but gave it four stars instead of five because the books ended abruptly. I wish E.L. James would have covered more or at least left off where it made sense. Besides the abrupt ending, it was great and I hope she releases the next one very soon.
---
If you read this let me know your thoughts! If you enjoy Erotica, what are your favorites? Im always looking for new stories to read!