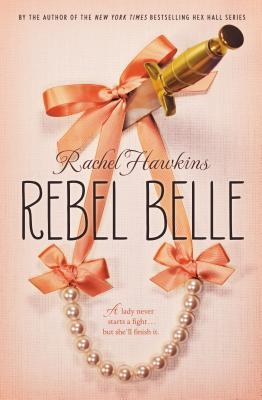 Rebel Belle By Rachel Hawkins
Pages:  368
Format: Paperback
My Rating: 3.6/5
Synopsis: Harper Price, peerless Southern belle, was born ready for a Homecoming tiara. But after a strange run-in at the dance imbues her with incredible abilities, Harper's destiny takes a turn for the seriously weird. She becomes a Paladin, one of an ancient line of guardians with agility, super strength and lethal fighting instincts. Just when life can't get any more disastrously crazy, Harper finds out who she's charged to protect: David Stark, school reporter, subject of a mysterious prophecy and possibly Harper's least favorite person. But things get complicated when Harper starts falling for him–and discovers that David's own fate could very well be to destroy Earth.
With snappy banter, cotillion dresses, non-stop action and a touch of magic, this new young adult series from bestseller Rachel Hawkins is going to make y'all beg for more.
GoodReads | Amazon | Barnes & Noble
---
Review: 
Having had the ARC of Miss Mayhem for quite some time I figured I might as well read Rebel Belle. While out having a book day with Mariam she decided that its time for me to read Rebel Belle so she bought me it and gave me no say, isn't she the best? haha!
Im glad I finally own it and the synopsis always intrigued me but I had no idea if id like it. When I started it the writing caught me off guard and I normally don't like that writing style but Rachel Hawkins killed it, I really enjoyed it. It took me awhile to get used to it but once I did It was super pleasant and made me laugh. This story deals with an over achieving girl named Harper Price who has been arch enemies with a boy named David Stark. Some weird things happen and lets say they both handle it like a champ. I enjoy how independent Harper is and how she didn't take crap from anyone.
I wish there would've been a little more backstory into what happened with her older sister, or a backstory into who Harper is in general. This story is entertaining and while you would think under the circumstances that it would be tense but it was actually delicious and light.
The one character that constantly irritated me is Mary Beth or MB as Ryan would call her -ughhhh- …some friend she is. I honestly think I only really enjoyed Harper, David, and occasionally Saylor. Other then those three characters no one else really stood out to me.
The ending had me screaming; I did not expect that to happen and I'm very excited to continue the story.
This story was surprisingly funny and entertaining. Im glad I was forced to read it, thank you Mariam!
---
Have you read this? Let me know your thoughts! What are YOU reading at the moment? Any recommendations?