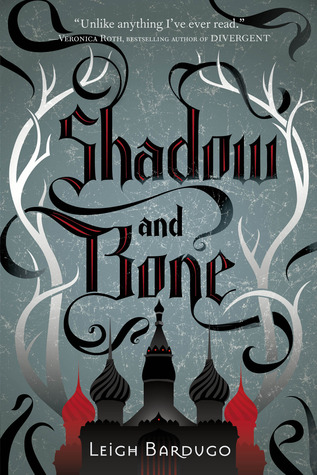 Shadow and Bone by Leigh Bardugo
Pages:  368
Format: Hardcover
My Rating: 4.2/5
Synopsis: Surrounded by enemies, the once-great nation of Ravka has been torn in two by the Shadow Fold, a swath of near impenetrable darkness crawling with monsters who feast on human flesh. Now its fate may rest on the shoulders of one lonely refugee.
Alina Starkov has never been good at anything. But when her regiment is attacked on the Fold and her best friend is brutally injured, Alina reveals a dormant power that saves his life—a power that could be the key to setting her war-ravaged country free. Wrenched from everything she knows, Alina is whisked away to the royal court to be trained as a member of the Grisha, the magical elite led by the mysterious Darkling.
Yet nothing in this lavish world is what it seems. With darkness looming and an entire kingdom depending on her untamed power, Alina will have to confront the secrets of the Grisha . . . and the secrets of her heart.
Shadow and Bone is the first installment in Leigh Bardugo's Grisha Trilogy.
GoodReads | Amazon | Barnes & Noble
---
Review:
First thing I want to say is I never actually looked at this cover in depth before but after finishing this book I completely understand the design and the title, its great.
I purchased the whole trilogy from Book Outlet a long time ago just because of the hype, it did not sound interesting to me at all. Most of the books that I really enjoy start off not catching my attention. With that being said, I really really really enjoyed this! I was hooked from the beginning and the way it was written just had me flying through this book.
It starts off introducing Alina Starkov (great name) and Mal, her best friend. We get some back story on when they were kids then it goes off to them being in the Army, thats where the story really begins. Their convoy is sent into the Fold (an area swallowed in darkness where nasty monsters live) and while they are being attacked Alina reveals a power that no one knew she had, including herself. This is where shit really takes off!
I thoroughly enjoyed this story, Leigh does a great job of world building and explaining what Grisha is. I did not find myself confused at all while reading. I liked how there was a lot of supporting characters but they still had important roles in the story. Alina is great and always does what she think is right even if the circumstances are difficult. She becomes so badass when she starts training and she's a bit snarky, which I like.
I generated an OTP as soon as I started reading this book, as a reader does, and lets say I'm so disappointed in it and I want to take it back, haha! My choice of book boyfriends have been terrible lately. I no longer have an OTP unless my OTP can be Alina saving the world, she doesn't need a man lol!
Im excited to continue with this trilogy and the hype is definitely well deserved!
---
Have you read this? Let me know your thoughts! What are YOU reading at the moment? Any recommendations?