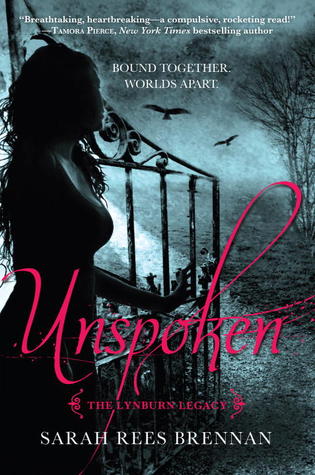 Unspoken by Sarah Rees Brennan
Pages:  400
Format: Paperback
My Rating: 4/5
Synopsis: Kami Glass loves someone she's never met . . . a boy she's talked to in her head ever since she was born. She didn't spend her childhood silent about her imaginary friend, and is thus a bit of an outsider in the sleepy English town of Sorry-in-the-Vale. Still, she has a best friend, runs the popular school newspaper, and is only occasionally caught talking to herself. Her life is in order, just the way she likes it, despite the voice in her head.
But all that changes when the Lynburns return. . . .
GoodReads | Amazon | Barnes & Noble
---
Review: 
Mariam, you are the only person I have to thank for this book being in my possession. This book has been on my want list for quite some time and I don't think I would have ever picked it up, reasons being unknown. Since Mariam and I have been friends its been a tradition to give each other books for christmas and this is one of the books she gave me -yay-. Just wanted to throw out that tidbit before I started the review, haha. So, thanks girl!
When starting the book I wasn't all that interested, the reason being is I was confused as to what was going on. I was confused until I got to the middle of the book. You might be wondering why in the world I gave it 4 stars then and the answer to that my wonderful book friends is that once I hit understanding everything became fast paced and amazing.
This story is about Kami Glass, a girl who can speak to someone in her mind, she doesn't know that this boy is real. Thats until the Lynburns return and her life gets turned upside down. Kami is a tiny human with a lot of sass, I really enjoyed her outlook on everything. Also included in this story are her two best friends Angela and Holly.
I really enjoyed this story and I was hooked and couldn't put it down. I enjoy how the story wasn't focused on love but it was more about friendship and family which is hard to find. It was nothing like how I expected and Im glad for that. Since starting this book I have purchased the second and third book. Being me, I kind of read some spoilers but it hasn't deterred me from continuing this series.
If you enjoy sass, naps, and adventures I definitely recommend this book!
---
Have you read this? Let me know your thoughts! What are YOU reading at the moment? Any recommendations?